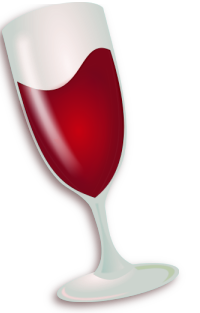 Kateri operacijski sistem je najboljši?
To je vprašanje, ki ga nihče ne zna odgovoriti dovolj natančno. Večina jih uporablja Windows, vendar če želite varnost in zanesljivost, boste verjetno izbrali katero od Linux distribucij, če želite dobro uporabniško izkušnjo in odlično video, grafično in avdio podporo, potem boste verjetno izbrali Applov operacijski sistem.
Odločilni faktor pri izbiri operacijskega sistema pa so aplikacije, ki jih želimo uporabljati. Vsi programi žal ne podpirajo vseh operacijskih sistemov. Za uporabnike odprte kode, ki jim na tisoče (brezplačnih) programov za Linux ni dovolj, je tu Wine.
Wine je "program loader" za Linux, ki zna poganjati Windows aplikacije. Windows programi delujejo s pomočjo Winea na Linuxu brez performančnih izgub, ki jih poznamo na raznih emulatorjih. Wine podpira že veliko število Windows aplikacij. Natančno število v času pisanja tega prispevka je 12256. Seznam aplikacij z izkušnjami uporabnikov pa lahko najdete tu.
Wine je predvsem zanimiv za igranje znanih PC igric na Linuxu, kot so World of Warcraft, Half Life, … Vendar zdaleč ne samo to. Na seznamu podprtih aplikacij najdemo tudi Microsoft Office 2007, Photoshop in mnoge specializirane programe, skupaj z navodili za instalacijo.